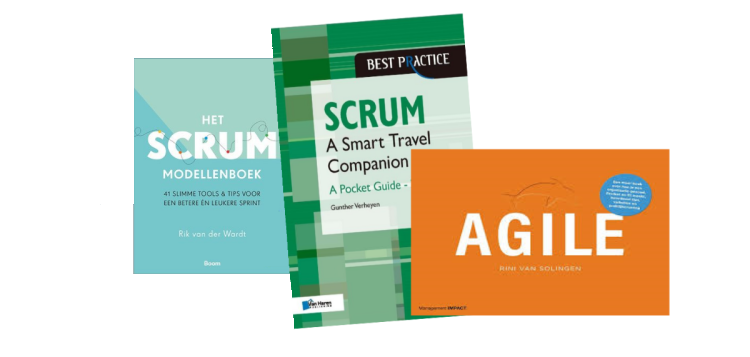 In de eerste maanden van het jaar zijn de volgende boekreviews op Agitma.nl verschenen:
Scrum a Smart Travel Companion – Verheyen
In the last 20 years Scrum has proven itself to be the market standard framework for organizations working Agile. Despite this tremendous success many organizations still find themselves in the middle of an Agile transition. The Scrum beginner and professional both have an ongoing need for a short descriptive overview of the framework. For both target audiences the book "SCRUM a pocket guide – A Smart Travel Companion" is a useful tool in the world of Scrum. The first version of this book appeared in 2013. Now, six years later the ...

Lees volledige review
'Het SCRUM modellenboek' levert datgene wat de titel uitdraagt. Een verzameling modellen die goed toepasbaar zijn in omgevingen waarin Scrum gebruikt wordt. Rik van der Wardt heeft 41 meer en minder bekende modellen verzameld, beschreven en gebundeld in deze uitgave. Zijn doelgroep bestaat naast Scrum Masters in principe uit iedereen die met Scrum of een andere Agile organisatievorm in aanraking komt, zowel binnen als buiten de IT. In "Het SCRUM Modellenboek" schotelt auteur Rik van der Wardt de lezer een bord vol nuttige modellen voor die gebruikt kunnen worden bij het ...

Lees volledige review
"Agile" is de eenvoudige maar heldere titel van het nieuwste boek van Rini van Solingen. In deze bewerkte verzameling van eerder verschenen artikelen laat Van Solingen zijn licht schijnen op veel voorkomende Agile-uitdagingen waar organisaties voor staan. Vanuit verschillende perspectieven benadert hij de vraagstukken en dat maakt de doelgroep van het boek dan ook breed. Managers, Agile trekkers en veranderaars kunnen dit boek als overzichtswerk zien en de handreikingen gebruiken als inspiratie of startpunt voor vervolgonderzoek. Rini van Solingen is geen onbekende auteur in het Agile werkveld. Eerdere publicaties van hem zijn ...

Lees volledige review
Voor alle boekreviews zie: Alle boekreviews of de side navigation.
Filled Under: book review Posted on: 8 March 2017