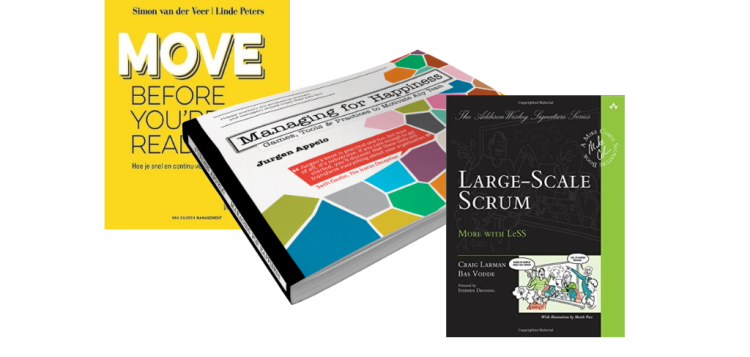 In de eerste maanden van het jaar zijn de volgende boekreviews op Agitma.nl verschenen:
Large-Scale Scrum – More with LeSS Nadat Scrum de software development wereld had veroverd, duurde het niet lang voordat schaalbaarheid een volgend belangrijk thema werd. Inmiddels zijn er meerdere schalings modellen in gebruik waarvan LeSS een bekende is. In hun derde boek, "Large-Scale Scrum – More with LeSS", nemen LeSS grondleggers Craig Larman en Bas Vodde de lezer mee in de daadwerkelijke toepassing van LeSS in grote organisaties. Het boek richt zich op iedereen actief in een omgeving waar meerdere Scrum teams moeten samenwerken aan één product. De Canadees Craig Larman en onze landgenoot Bas Vodde zijn ...
Lees volledige review
Managing for Happiness – Jurgen Appelo Kom jij als manager, coach of consultant tot de conclusie dat de geijkte management technieken en methoden steeds minder aanslaan? Stoten jij en je teams zich aan dezelfde steen als 10 jaar geleden? Een vergelijkbaar inzicht had Jurgen Appelo voordat hij in zijn eerste boek uit 2010 Management 3.0 introduceerde. In zijn recente vervolg Managing for Happiness beschrijft hij een set van practices en principes waarmee managers organisaties verder kunnen helpen binnen het gedachtegoed van Management 3.0. Hij inspireert op een speelse manier het anders kijken naar verantwoordelijkheden, rollen en de ...
Lees volledige review
Move before you're ready De laatste jaren zijn er binnen talloze organisaties verandertrajecten ingezet. Gedreven door personele reorganisaties, marktuitdagingen of compleet nieuwe bedrijfsmodellen. Maar hoe zit het nu met het verandertraject zelf? Moet dat niet bij de tijd blijven en meegaan met de nieuwste ontwikkelingen? Jazeker. Simon van der Veer en Linde Peters delen in het door hen geschreven Move before you're ready hun ervaringen met verandertrajecten en steken het verandertraject in een modern jasje. Voor iedere professional bezig met organisatieveranderingen geeft het boek nuttige tips en handvatten om de verandering zo soepel mogelijk te ...
Lees volledige review
Voor alle boekreviews zie: Alle boekreviews of de side navigation.
Filled Under: book review Posted on: 8 March 2017